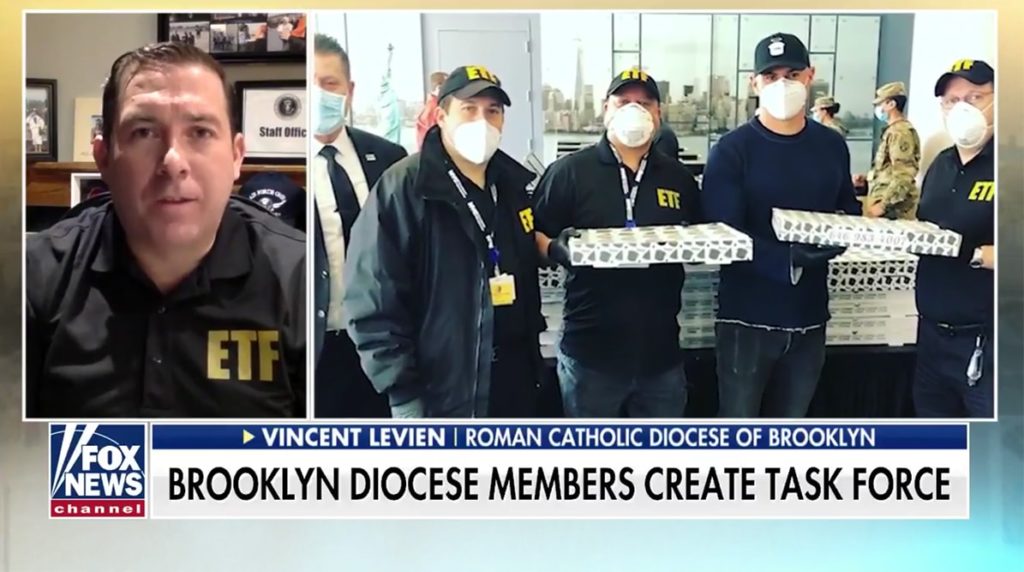 We at DeSales are committed to serving our community however possible, especially in times of need. During the coronavirus pandemic of 2020, DeSales Media organized the Diocese of Brooklyn's COVID-19 Emergency Task Force (ETF) in New York City and beyond.
The Emergency Task Force has been coordinating logistics and the procurement of personal protective equipment and other essential medical supplies for NYS Office of Emergency Management, Governor Cuomo's NYS Troopers Protective Detail, New York City Police Department, Fire Department of the City of New York, FDNY Emergency Medical Services, NYC Office of Emergency Management, and other first responders and medical professionals who are fighting the pandemic on the front lines. Through their efforts, they have acquired and distributed more than 450,000 masks, sanitizers, gloves, face shields, and other vital protective equipment.
The team was also responsible for facilitating the delivery of over 50,000 pizzas to over 40 hospitals and medical centers, as well as to NYPD police precincts, FDNY station houses, food banks, and community organizations throughout the city. They have been working in partnership with restaurants, including Sauce Pizzeria, which shut down its normal operations to the general public to provide the Emergency Task Force with pizzas to deliver to first responders.
The Emergency Task Force has also coordinated with the Catholic Telemedia Network (CTN) and the Schools Office for the Diocese of Brooklyn to deliver iPads to schools where many of the families do not have the financial resources to purchase equipment that can be used for remote instruction from teachers. This has resulted in nearly 1,000 iPads being delivered to 21 Catholic academies across Brooklyn and Queens.
News Coverage