By Dave Plisky
At the end of July, I had the honor of attending the Napa Institute's Annual Summer Conference. Over fine wine and great conversation, we exchanged ideas, hopes, and fears about the future of the Church. Saturday's conversations focused on the theme "Amazing Parish," so it's no coincidence that Patrick Lencioni of The Amazing Parish presented that day. Named "one of the most in-demand business speakers" by the Wall Street Journal, Pat is a management consultant who uses his professional gift for teamwork-building to care for the organizational health of the Church.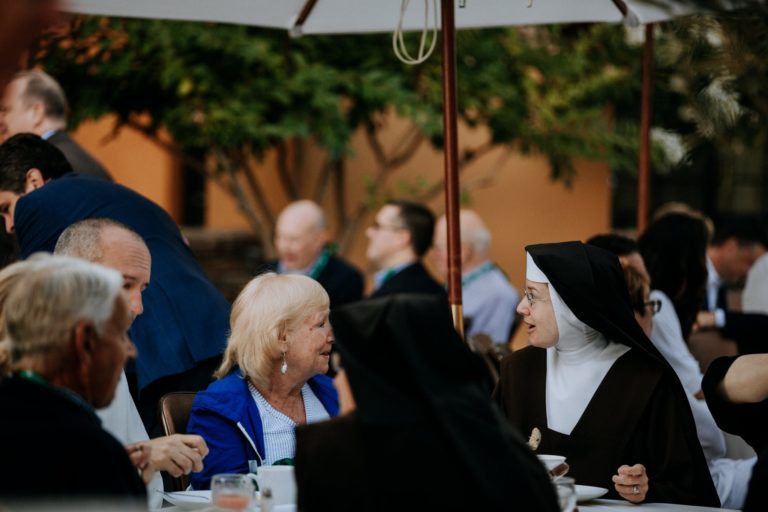 I saw Pat in action earlier this summer, thanks to Archdiocese of Cincinnati Communications Director Mike Schafer, who invited me to The Amazing Parish Conference in Cincinnati. You can see and hear Pat's passion for yourself in this video. Pat describes the Five Misconceptions of a Parish Team, based off his latest book, The Five Dysfunctions of a Team. By identifying and correcting these five misconceptions, pastors and parish leaders can better care for the organizational health of their parish.
While at Napa, I also attended the Catholic Leadership Institute's breakfast and morning break-out session, entitled "I Want Your Parish to Close and Here's Why." Despite the provocative title, CEO Dan Celluci quickly reassured attendees that he didn't actually want anyone's parish to close.
Dan showed us how parishes in the United States too often use the wrong metrics to measure the health, and vibrancy of their parish. But, by focusing on the right key performance indicators (KPIs), a parish might be able to more accurately measure their successes and identify their growth areas.
So what are the right KPIs for a parish?
According to the Catholic Leadership Institute, current research indicates that when a parish church building closes, 40% of parishioners don't find another church to attend, Catholic or otherwise. They stop going, period. If your parish church were to close tomorrow, would you beat that statistic? Would fewer than 40% of your parishioners find another place to attend Mass?
L'Alto Catholic Institute and The Evangelical Catholic also presented on Saturday at Napa. Tim Glemkowski, President and Founder of L'Alto Catholic Institute, is no stranger to DeSales. Tim was our emcee here in the Diocese of Brooklyn for DeSales Media's World Communications Day 2017 event.
Both L'Alto and EC are apostolates that give new parish leaders and their teams the building blocks to become the missionary disciples they can and must be in order to transform the church. While Tim and the L'Alto Catholic team focus on reinvigorating parishes, The Evangelical Catholic runs multiple programs to increase the faith engagement of Catholic leaders in parishes, dioceses, and colleges.
All three of these ministries provide videos and exercises designed to walk parish leaders through the process of revitalizing their parish. Each of these three ministries approach the issue of church attendance and parish community, and each participate in the call for evangelization in a unique way.
We at DeSales are thrilled to see this lay-leadership-led renewal in the Church. The work of Catholic Leadership Institute, L'Alto Catholic Institute, The Amazing Parish, and The Evangelical Catholic goes hand-in-hand with the technology we are creating for parish and diocesan leaders. Every parish deserves a beautiful website. But the truly inspired, mission-driven leaders among our parishes and dioceses will realize the full potential of such a digital space as a means of promoting evangelical spirit among, with, and for their parishioners.
***For those attending the Napa Institute's 2019 Principled Entrepreneurship Conference in Manhattan October 21-22, please come and visit us at DeSales! We're just over a hop across the East River in Prospect Heights, Brooklyn.
Images Courtesy of the Napa Institute.