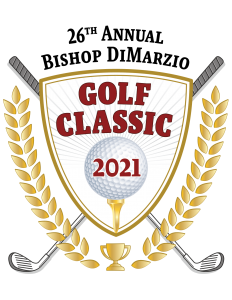 The Bishop DiMarzio Golf Classic raises funds and awareness for charities that support the mission of the Catholic Church around the world. This year's beneficiary is the Hospital and Healthcare Chaplaincy Program. Over the past 25 years, the tournament has raised more than $1.6 million.
Your support is the difference.
The tournament will be held July 22, 2021, at North Hills Country Club in Manhasset, NY.
For questions about the event, including sponsorships, email golfclassic@desalesmedia.org.
Your Support of
Healthcare in the Diocese
Each year our goal is to raise $100,000 to benefit a charitable organization that is changing the world one life at a time, either locally or abroad.
The Hospital and Healthcare Chaplaincy Program falls under the Office of Clergy Personnel in the Diocese of Brooklyn. There are 24 chaplains, each stationed at a hospital or nursing home within the diocese borders.
Whether a minor accident or ailment, or a time of immense suffering or loss, the Diocese of Brooklyn chaplains give compassion, empathy and solace during their ministering rounds through prayer and a listening ear. They also administer the sacrament of the anointing of the sick and celebrate mass on-site. Bringing comfort is the core of pastoral care. They are a blessing, especially during the pandemic.
Your support will provide spiritual care for patients, medical workers and the healthcare community at large in the Diocese of Brooklyn by ensuring that this important program and ministry continues on.
Venue and Schedule
North Hills Country Club is a premier golf course designed by Robert Trent Jones in 1961. You can join us in the morning for golf or in the evening for cocktails and dinner.
9:00 a.m. – Registration and Driving Range Opens
9:30 a.m. – Breakfast Begins
10:45 a.m. – Group Photo
11:00 a.m. – Shotgun Start
12:00 p.m. – Lunch Available at the Turn
4:30 p.m. – Cocktails and Dinner
6:00 p.m. – Prizes / Raffles / Awards