Leaders and communicators from around the Diocese of Brooklyn gathered on World Communications Day for a luncheon to honor Ed Wilkinson, editor of The Tablet, for his nearly 50 years of service to Catholic news in Brooklyn and Queens.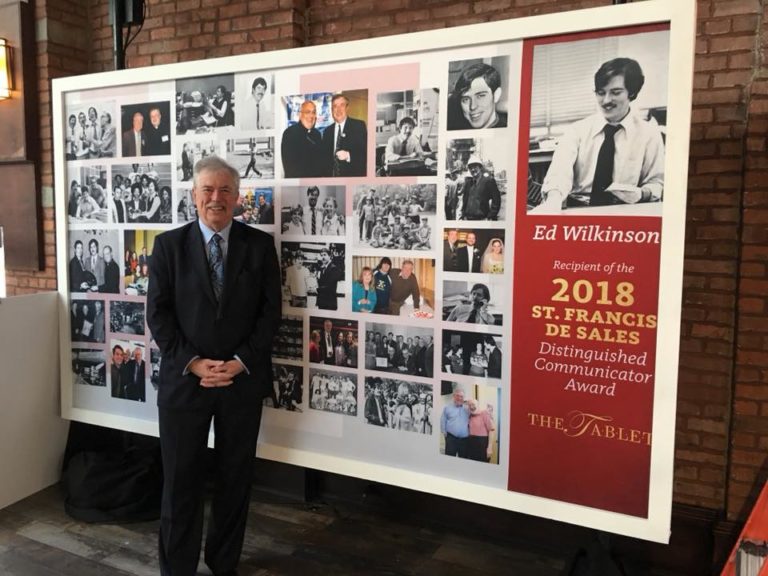 Wilkinson, who received the 2018 St. Francis DeSales Distinguished Communicator Award, spoke of the past, present and future of The Tablet and DeSales Media Group. He talked about complex issues, including the many changes in the diocese and the news business and the need to adapt without losing site of the paper's mission. But in the end, he was able to boil everything down to a suprisingly simple statement of purpose.
"I'm just another loyal member of the Church here in the diocese trying hard to tell the story of the Church here in Brooklyn and Queens," he said. "As a journalist, we try to be fair and impartial, but we always start from a Catholic point of view. That's non-negotiable. It's not bias, it's just where we're coming from. We're Catholic, and we're not ashamed of it."
Wilkinson, who started at the paper in 1970 and has been the top editor since 1985, is taking on a new role as editor emeritus and will be working with management at DeSales Media Group to plan for the next 50 years of Catholic news coverage. His influence will continue, but he wasn't above making a joke at his own expense.
"I'm not sure what emeritus means," he said. "I think it means they still give you things to do but nobody listens to what you have to say."
On this day, it was clear that wasn't true. Everyone was listening to him, and many were talking about him with fondness and respect, including Bishop Nicholas DiMarzio, who introduced him.
"We thank you so much for the dedication you've shown and continue to show, and for your love for The Tablet and DeSales Media," he said.
Liz Faublas, host of Currents on NET TV, was the master of ceremonies. She kept the mood light but also had touching words for Wilkinson.
"He literally embodies what it means to be a good leader and a good boss and a good friend," she said.
Fr. Thomas F. Dailey, the John Cardinal Foley Chair of Homiletics and Social Communications at St. Charles Borromeo Seminary in Pennsylvania, was the guest speaker. In his talk, Fr. Dailey spoke of Wilkinson in relation to the three crucial pieces of advice that Cardinal Foley gave to Catholic journalists — be unwavering in dedication to the truth, be instruments of peace and charity, and communicate hope.
"If that is the creed of a Catholic journalist," Dailey said, "I think you will all agree with me that Ed Wilkinson has professed that creed in his life and in his work."
Monsignor Kieran Harrington, Vicar for Communications for the diocese, summed thing up nicely in the event's program.
"For 110 years, The Tablet's ink has documented the news and events of our diocese," he wrote. "Decades after they were printed, these pages now serve as a detailed week-by-week historical record of our diocese. Ed Wilkinson has been a part of that effort for nearly five decades. We can trust that under his leadership The Tablet's news and editorials highlight our past and tell the story of our future."
While news and current events were the themes of the day, the event, held at 26 Bridge, also featured some nostalgia, with displays featuring photos from Wilkinson's career and reproductions of historic front pages.
The event was held on World Communications Day. Pope Francis chose this year's theme — "The truth shall set you free" — as a way to address current events and to encourage journalists to communicate effectively, responsibly, and honestly.
"In today's fast-changing world of communications and digital systems, we are witnessing the spread of what has come to be known as 'fake news,'" he wrote when announcing the theme in January. "I would like to contribute to our shared commitment to stemming the spread of fake news and to rediscovering the dignity of journalism and the personal responsibility of journalists to communicate the truth."
On Wednesday in Brooklyn, the diocese and DeSales Media honored a man who has been doing just that for nearly five decades — and isn't done yet.
Video and Photos From World Communications Day
@ewilkinson_ed makes his speech at #WCD2018 https://t.co/YuSraym1hD

— The Tablet (@TabletNewspaper) May 9, 2018
Father Thomas Dailey is our guest speaker at this year's #WCD2018 https://t.co/vtXDixJS9D

— The Tablet (@TabletNewspaper) May 9, 2018
Bishop Nicholas DiMarzio presents @ewilkinson_ed with St. Francis DeSales Distinguished Communicator Award pic.twitter.com/JXAhpSQsth

— The Tablet (@TabletNewspaper) May 9, 2018