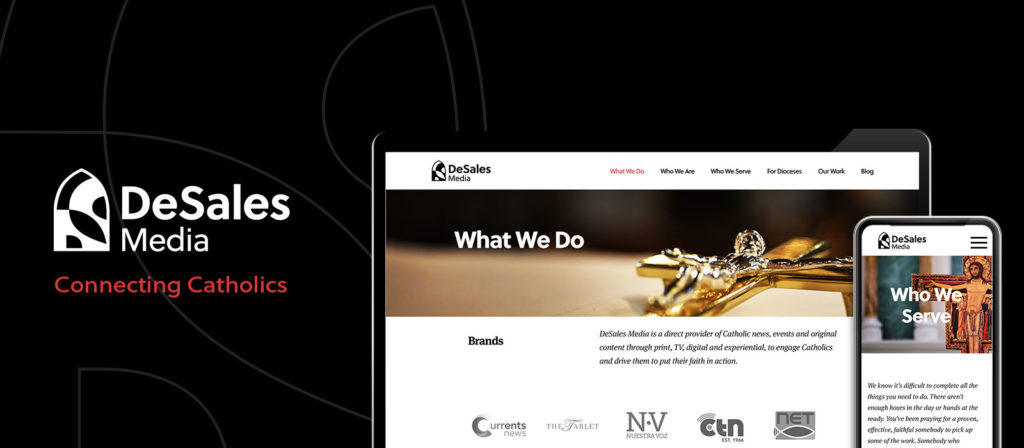 "And they were all filled with the holy Spirit and began speaking in different tongues. …Jews and converts to Judaism, Cretans and Arabs, yet we heard them speaking in our own tongues of the mighty acts of God." (Acts 2:4,11)
As we launch our new website on this Monday after Pentecost, I'm reminded of the apostles who, filled with the Holy Spirit, were able to proclaim the Gospel to such a wide and diverse audience.
Today we hope the universal languages of design and storytelling will help us reach across the digital continent to speak to people in every corner of our community and country so we can help them share the Good News.
Our new website is the digital front door of our ministry, which uses media and technology to help our clients inspire Catholics to put their faith into action. Welcome.
Like any company website, desalesmedia.org tells our story — what we do, who we are, who we work with. But we aim to do more with this new platform. Through the case studies in Our Work, you can see how we have solved communications challenges within the Diocese of Brooklyn and beyond. In the DeSales Media Blog, you can get to know us even better as we explore how we and other Catholic organizations combine ministry and mission to reach, engage, and lead the faithful.
We hope you will use the site to connect with us and share your challenges. We are anxious to work together for God's kingdom on earth.