NET, the cable TV network of the Diocese of Brooklyn that features news and information with a Catholic point of view, debuts its new show Active Catholics on Wednesday, March 12, at 9 PM ET.
In this new series, host and producer Jerry Sticker follows the lives of Catholics active in faith, sports and community. This show is the Catholic answer to ESPN's documentary series 30 for 30 and the lineup is inspiring.
Like the Apostle Paul, these athletes keep their eyes on the prize of eternal life from Christ. "Do you not know that in a race all the runners compete, but only one receives the prize? So run that you may obtain it. Every athlete exercises self-control in all things," wrote Saint Paul. "They do it to receive a perishable wreath, but we an imperishable."
(1 Corinthians 9:24-25)
March 12 Premiere of Active Catholics Lopez Lomong – Lost Boy Found: Olympian Lopez Lomong, pictured here with  Jerry Sticker, began long-distance running at age 6 when Lomong and his family fled Janjaweed warriors in South Sudan. He escaped and was separated from his family, but Catholic missionaries took care of him at the Kakuma "Lost Boys" refugee camp in Kenya. After 10 years as a lost boy, he wrote an essay about what he wanted to accomplish in America and was brought here to live with a family in New York. Thus began Lomong's journey to become a U.S. citizen, compete in the Olympics, carry the U.S. flag at the 2008 games, and help the poor in South Sudan.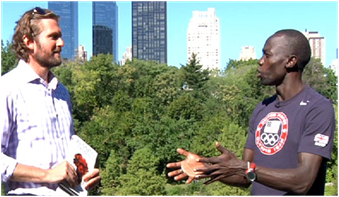 March 19 Sister Mary Beth Lloyd – Running Nun: Sister Mary Beth Lloyd, M.P.F. is an ultramarathoner and the author of AIDS Orphans Rising. "Ultramarathoner" might be understatement because Sister Lloyd runs in her habit to raise money and awareness for orphanages in Albania, Brazil, Eritrea, Ethiopia and India, as well as orphans in the United States.
March 26 Giovanni Roselli – Wrestler, Actor, Trainer: Giovanni "Romeo" Roselli talks about the dual role he plays as bad guy wrestler and good guy Catholic. In 2007, Roselli won the World Wrestling Council Puerto Rican Heavyweight Championship. Afterward, he went to Europe where he won the Nu Wrestling Evolution Heavyweight Championship and defended that title in Italy, England and Spain. His film and TV credits include roles in The Wrestler, Darren Aronofsky's Academy Award-nominated movie starring Mickey Rourke and Marisa Tomei; and his recurring appearances on the Food Network's show Restaurant Stakeout.
April 2 Leo Manzano – Mexican-American Silver Medalist 2012 Olympics 1500 Meters: Leo Manzano, who stands under 5' 5", talks about his David vs. Goliath rise to the top of the running world. Among his many credentials, this Olympic champ, this professional track and field athlete, shares his Catholic faith in English and Spanish.
April 9 St. Francis Men's Soccer – Richie Arkoi, Riccardo Milano, Andy Cormack, John Johansson: St. Francis College in Brooklyn Heights won the 2013 NEC Soccer championship. A few days after winning, Richie Arkoi's house burned down. On Active Catholics, Arkoi and his fellow players discuss how their team spirit transcends sports—how it's the personal bond of Christian friendship, especially when tragedy strikes.
Where to watch NET's Active Catholics
Starting March 12, 2014, Active Catholics airs Wednesdays at 9 PM ET on Cablevision Channel 30 and Time Warner Cable Channel 97 in the New York City area. Viewers around the world can watch the show streaming online at NETNY.net.
Across the USA, NET shows are on Verizon FiOS On Demand. To watch NET shows on Verizon FiOS, select the "Religion" folder, then "NET Catholic."
Learn more about NET's Active Catholics at NETNY.net/active-catholics.
Join NET on Facebook at Facebook.com/NETTVny.
Active Catholics host and producer Jerry Sticker collaborates on this series with NET producer Terence Donnellan and NET executive producer Craig Tubiolo.
To spread the good news about Active Catholics, schedule an interview with Jerry Sticker by calling (310) 570-8320 or emailing GeraldSticker@gmail.com.