November 19 — Parents, students, and teachers rallied in White Plains today to support New York's proposed Education Investment Tax Credit. This bill would boost contributions to public school programs and scholarships for students who seek to attend parochial and other private schools.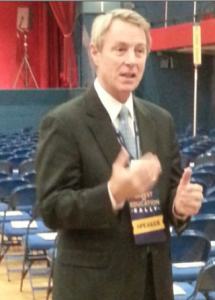 The new donations for scholarships would make private and parochial education a reality for families seeking new quality educational opportunities and assist those already enrolled who are struggling to afford tuition at the schools that best meet their needs.
The "Invest in Education Rally" was co-sponsored by the Roman Catholic Archdiocese of New York, the Orthodox Union Advocacy Center, the NYS Coalition or Independent & Religious Schools, the Business Council of Westchester, the Children's Scholarship Fund, The Jewish Education Project, Lutheran Schools Association, and the Archdiocese of New York Catholic Schools.
Today's speakers included:
– Timothy Cardinal Dolan (via videotape)
– New York State Senate Co-Leader Jeff Klein (D-Westchester)
– Senate Democratic Leader Andrea Stewart Cousins (D-Westchester)
– Assemblymember Gary Pretlow (D-Westchester)
– Rabbi Mark Kalish, VP, Agudath Israel
– Patricia Gabriel, President of Federation of Catholic Teachers, OPEIU, AFL-CIO
– Timothy McNiff, Schools Superintendent, New York Archdiocese