The best websites available for Catholic schools and academies
"I am very satisfied with the website. Ever since it was published we've been using it as a way to promote our school and engage prospective parents that we wouldn't otherwise have known about."
– Principal, Our Lady of Trust Catholic Academy in Brooklyn, NY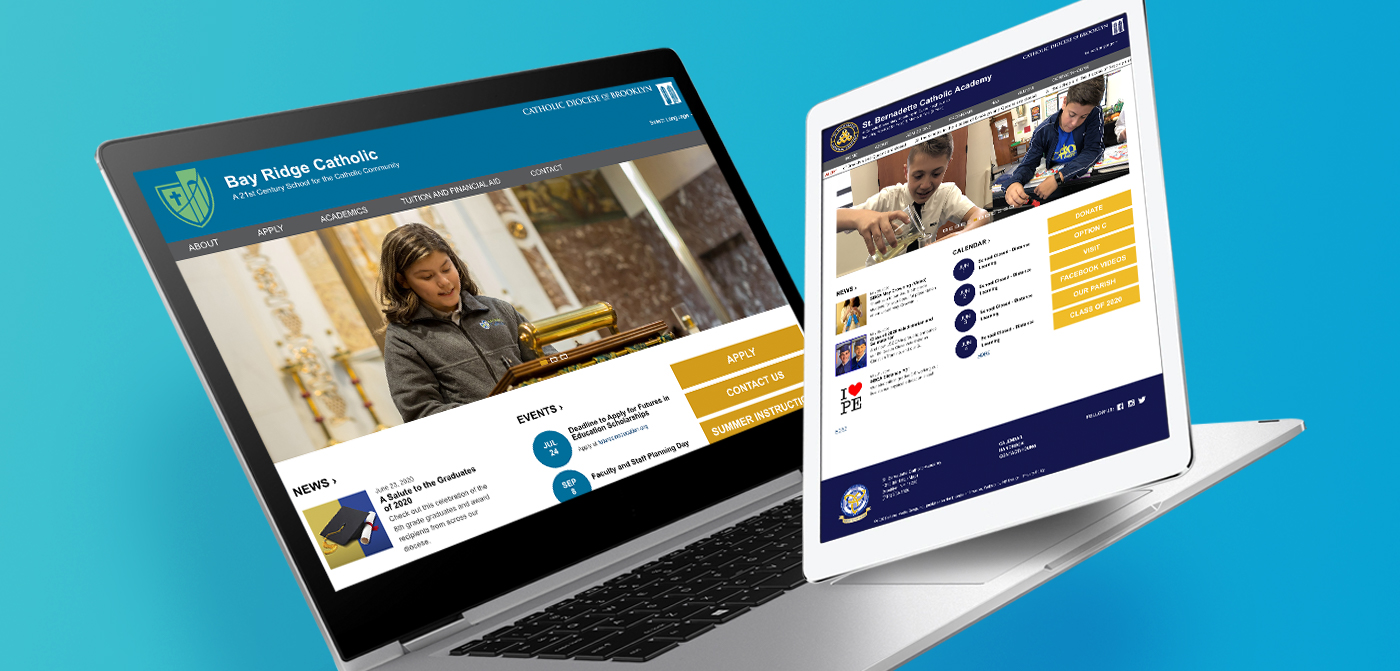 For years, DeSales Media has been a dedicated digital partner to the Catholic academies and schools of Brooklyn and Queens. Now we are offering our services to Catholic educators across the country.
When we set out to create our Academy Network, the Diocese of Brooklyn was facing a common problem. Each school's site was built in a vacuum, which resulted in a jumble of designs and platforms and hosting solutions. There was no continuity, little quality control, and no diocesan-wide structure to help schools establish a professional digital presence.
DeSales changed all that. We brought together our unmatched combination of design sense, content expertise, technical know-how, and customer service to meet this challenge. We built 60 sites in less than four years, providing our schools with a customizable platform and our diocese with a network of clean, consistent, high-quality sites.
We provide:
Sites that are easy to use and update
Modern design and straightforward navigation
Multiple templates with customizable colors, fonts, and images
Responsive layouts to fit any screen – phone, tablet, laptop, desktop
Integration with key educational technology providers, including FACTS tuition payments, Google Classroom, and Option C
Integration with social media platforms, including Facebook, Instagram, and Twitter
Unparalleled customer service and staff training
Secure, fast, and reliable hosting
"Our previous website was unable to fit the needs of our community and this prompted us to look to DeSales for a responsive design."
– Principal, St. Mel's Catholic Academy in Queens, NY
"Another highlight was the sleeker design that DeSales brought our way. Our old site was too messy and we were looking for a more professional look. DeSales uses a very clean format and great design."
– Principal, St. Mel's Catholic Academy in Queens, NY
"I think the website is easy enough to use – it's well-designed and the navigation makes sense."
– Marketing and Admissions, St. Saviour Catholic Academy in Brooklyn, NY
"We find that it is a great tool for keeping our community aware of all of the wonderful things that are happening at our Catholic Academy."
– Principal, Our Lady of Trust Catholic Academy in Brooklyn, NY
We would love to bring Academy Network to your (Arch) Diocese!
Please let us know a few details and we will be in touch!